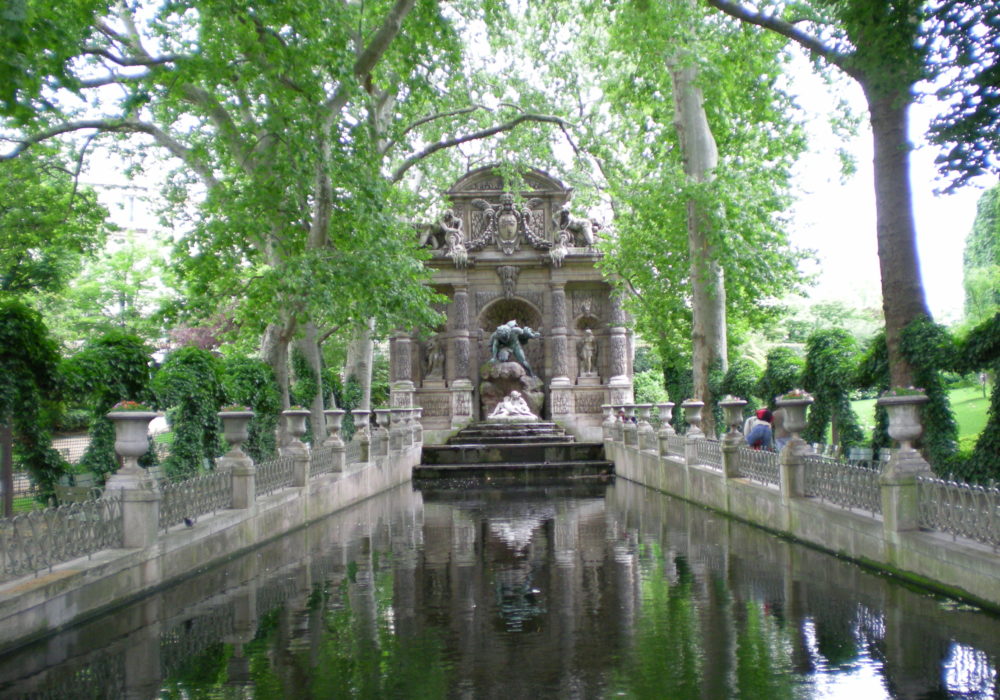 Located at the eastern end of the Jardin du Luxembourg, the Medici Fountain is one of the most important decorative elements of the garden and one of the most romantic spots in Paris!

The Fountain of Medici or the Luxembourg cave
Formerly called the "Luxembourg grotto", Florentine engineer Thomas Francine was requisitionned to design the Medici Fountain by Marie de Medici in 1630, whom she had also tasked to lead the waters of Rungis to Paris. Henri IV's widow then, the former queen of France and Navarre could no longer bear the Louvre and decided to build a palace on the edge of the capital, at the foot of the Montagne Sainte-Geneviève where the Senate stands today. She hoped to rekindle the atmosphere of nymphs and fountains present in the Italian gardens of her childhood, and in particular that of the Buontalenti grotto in the gardens of Boboli in Florence. It's probably Thomas Francine who drew the plans of the grotto around 1630 and French architect Salomon de Brosse in charge of the construction of the Luxembourg Palace.
The decor of the Medici fountain
Restored in the 18th and 19th centuries, the Medici Fountain undersent various transformations, and was even moved stone by stone to the garden in 1862 following the opening of rue de Médicis, carried out as part of Baron Haussmann's urban planning. What was then an Italian style portico became a fountain.
Alphonse de Gisors then added a 50 metre long pool of water, bordered by a path of plane trees. Auguste Ottin added a group of three mythological characters entitled Polyphème surprising the nymph Galatée in the arms of the shepherd Acis, preparing to throw the stone on his rival that would then kill him.
During the relocation and reconstruction of the monument in 1862, the Léda fountain, formerly located at the corner of Rue du Regard and rue Vaugirard, was placed against the rear side of the Medici Fountain, following the opening of rue de Rennes. Leda and Jupiter are represented metamorphosed into a swan.
Just a few metro stops from Aloha, come and visit the Luxembourg Gardens and take a stroll near the beautiful Medici Fountain!