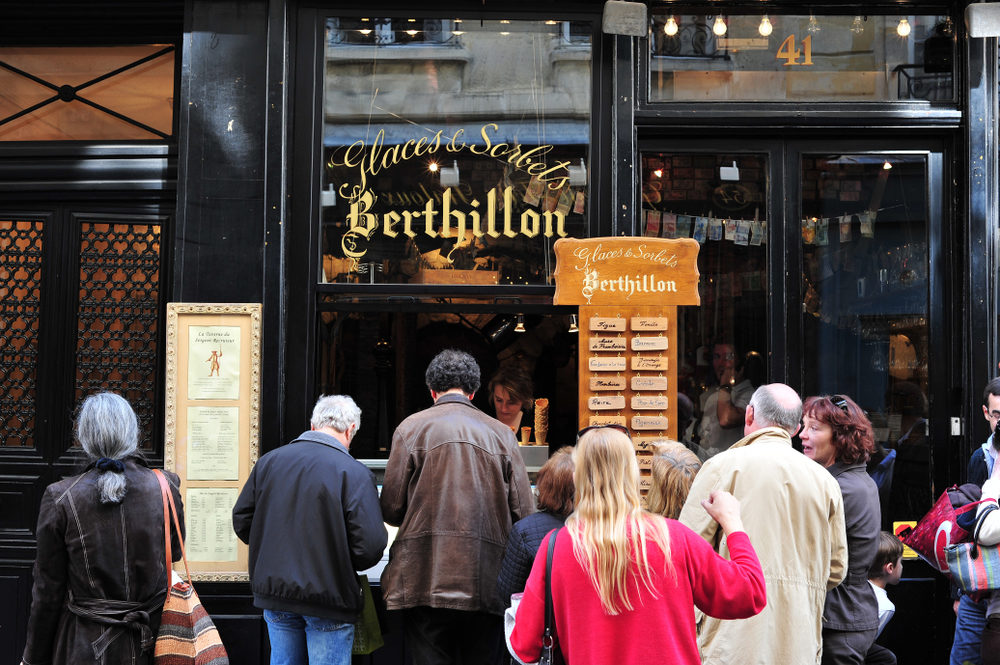 Summer is coming along with the heat, the perfect time to enjoy a good ice cream along the Seine!
The most famous ice-cream parlour: Berthillon
The ice-cream parlour on rue ïle Saint-Louis opened in 1954 and is an institution in Paris. Berthillon's success is due to its artisan method of ice cream making. Upstairs, the ice cream makers produce the various flavours that are a true treat to the taste buds of Parisians and tourists alike: vanilla, wild strawberry, salted butter caramel…
The celebrity even allows it to close throughout the month of August, highly unexpected for an ice-cream parlour…
The oldest ice-cream parlour: Raimo
Set up in 1947, Raimo is the oldest traditional ice-cream parlour in Paris. And if you have a hard time choosing between the forty different sorbets and ice creams offered, choose the set menu that allows you to taste eight at a time, and let yourself be tempted by flavours such as marron glacé (sugar coated chestnut), ginger, lemon-basil or almond milk.
The craziest ice-cream parlour: Glazed
The first sweet Food Truck of the capital opened its own shop in 2004 in the 9th arrondissement of Paris. Glaces Glazed is renowned for its 100% regional ingredients and surprising flavours. It's not every day that you'll taste caramelized banana ice cream with curry!
Each flavour is associated with a film or song title, such as Mr Green (Iranian pistachio-black sesame), Smoke on the Water (Organic hemp vanilla-seeds) or Tokyo Mojito (rum-lemon-mint). Those with a true sweet tooth can also indulge in frozen desserts or revisited waffles.
The creamiest ice-cream parlour: Pozzetto
Located in the centre of the Marais, this transalpine ice-cream parlour constantly attracts people with these Italian-style ice cream cones. Each day, twelve artisanal and smooth flavours are made with fresh milk and seasonal fruits. Don't expect to eat scoops of ice cream, here the customers are served with a spatula!
The most authentic ice-cream parlour: Grom
At Grom, the origin and quality of the ingredients make all the difference: Venezuelan chocolate, Piedmont hazelnuts, Guatemalan coffee, Syracuse lemon. They all come from natural elements, which gives a unique taste to the ice cream. Each month, new flavours are created to everyone's delight!
Aloha agents help you discover the finest gourmet locations of Paris: contact them quickly to prepare your stay!