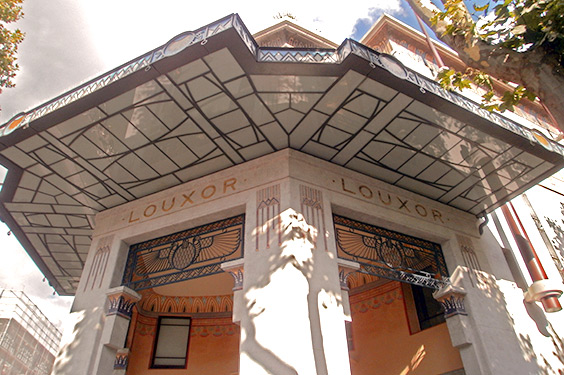 In the mood to discover really unusual cinemas in Paris? Aloha reveals the most unique places in the city to see a film.
La Géode: Parisian circular cinema to dazzle both young and old…er!
This curious silver ball hides an immersive cinema within it: its screen measures 26 meters (over 80 ft) in diameter for 1000 m² (11 000 sq ft) of surface. Broadcasting documentaries and animated films, the peculiar dome is situated in the La Villette district. It's the ideal place to go and see a film as a family.
The Grand Rex, the extravagance of America for cinema
Even though the Grand Rex looks like something from Hollywood and New York, it's in fact a historical monument of the grand boulevards. The large art-deco room is breath-taking, and regularly hosts preview showings and festivals. No wonder the Grand Rex is so popular: it's the largest cinema theatre in Europe! Visiting the Rex Studios just next door allows you to continue the wonder even after the end of the film.
Luxour, the cinema theatre of the pharaohs
Hieroglyphs, balconies and gilding give the Louxor a superb Egyptian palace aspect. But do not be fooled: people do go to admire works of the 7th art. That said, it wouldn't be surprising to find yourself with Tutankhamen for a neighbour, sitting on the large red armchairs of the projection room…
Be sure to have a drink on the Louxor balcony after the film to enjoy a beautiful panorama of Paris.
Studio 28, romantic cinema of Montmartre
On the Butte Montmartre, Studio 28 is a small cinema theatre showing feature and short films. Unbelievably romantic, it has kept its Parisian 20s feel, the time of its inauguration. After the film, you can get some fresh air in its beautiful garden, away from the Parisian bustle.
Germain Paradisio, luxurious cinema of Paris that can be privatized
Treat yourself to a tailor-made film session at the Germain Paradisio: the very chic and fashionable cinema allows you to book the room for a movie. A catering service is even offered to indulge the guests. Located in Saint-Germain-des-Prés, the Germain Paradisio allows you to spend a truly unique moment.
Aloha agents help you discover all the secrets of Paris: contact them quickly to prepare your stay!
© Shutterstock