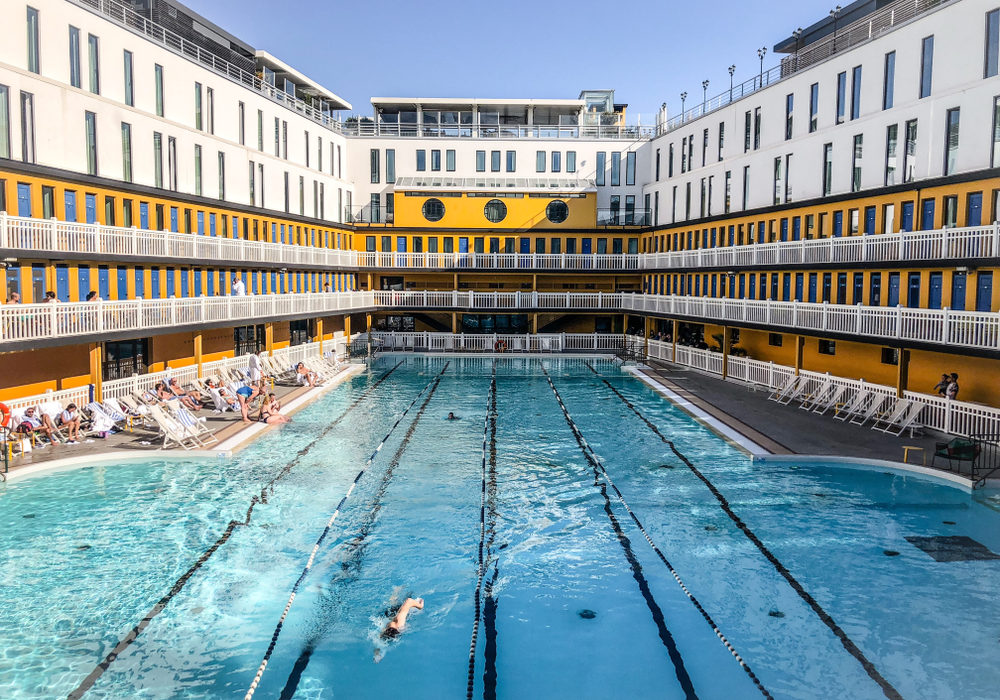 Want to cool off and take a dip? Aloha invites you to discover the five most beautiful pools in Paris!
Josephine Baker Pool
Joséphine Baker Pool, Quai de la Gare, 75013 Paris
Inaugurated in 2007 for the fifth edition of Paris-Plages, this floating pool was built on a barge, in front of the Bibliothèque François Mitterrand. The pool is 25m long, with a a glass roof that becomes an open-air swimming pool on sunny days. With its solarium, the Joséphine Baker swimming pool is the ideal place to perfect your tan while admiring the Seine.
The Molitor Pool
Piscine Molitor, Avenue de la Porte Molitor, 75016 Paris
Inaugurated in 1929, just a few steps from the Bois de Boulogne, the Molitor swimming pool was the place to be in western Paris for 60 years. Closed since 1989, it re-opened in 2014, alongside the luxurious Molitor Hotel, following the work of architect Jean-Philippe Nuel who succeeded in highlighting the original design of Lucien Pollet when it was created.
The Butte aux Cailles pool
Piscine de la Butte aux Cailles, 5 Place Paul Verlaine, 75013 Paris
As one of the oldest swimming pools in Paris, the Butte aux Cailles Swimming Pool has been classified as a historical monument since 1990. The interior concrete vault and its glass blocks are characteristic of Art Nouveau style. On top of that, the three pools, two outdoors, are supplied by spring water offering a natural and pleasant bathing opportunity.
The Château-Landon pool
Piscine Château Landon, 31 rue Château-Landon, 75010 Paris
Inaugurated in 1884, the Château Landon swimming pool is the oldest indoor heated swimming pool in Paris.
The art-deco and vintage architecture is highlighted by the different floors of passageway changing cabins and the large glass roof overlooking the large pool. With its two pools, it's very popular for its nautical activities, its calm and its lower visitor rate than other establishments.
The Pontoise pool
Piscine Pontoise, 19 rue de Pontoise, 75005 Paris
Inaugurated in 1933, the Pontoise Pool is listed as a historical monument. A mythical place where Jacques Cousteau made his first scuba diving tests in 1936, this pool plunges you back to the Parisian sporting past in the blink of an eye.
If there's one thing you must do during your stay in Paris, it's a night swim in this pool lit only by spotlights at the bottom of the water.
Aloha agents help you discover all the secrets of Paris: contact them quickly to prepare your stay!