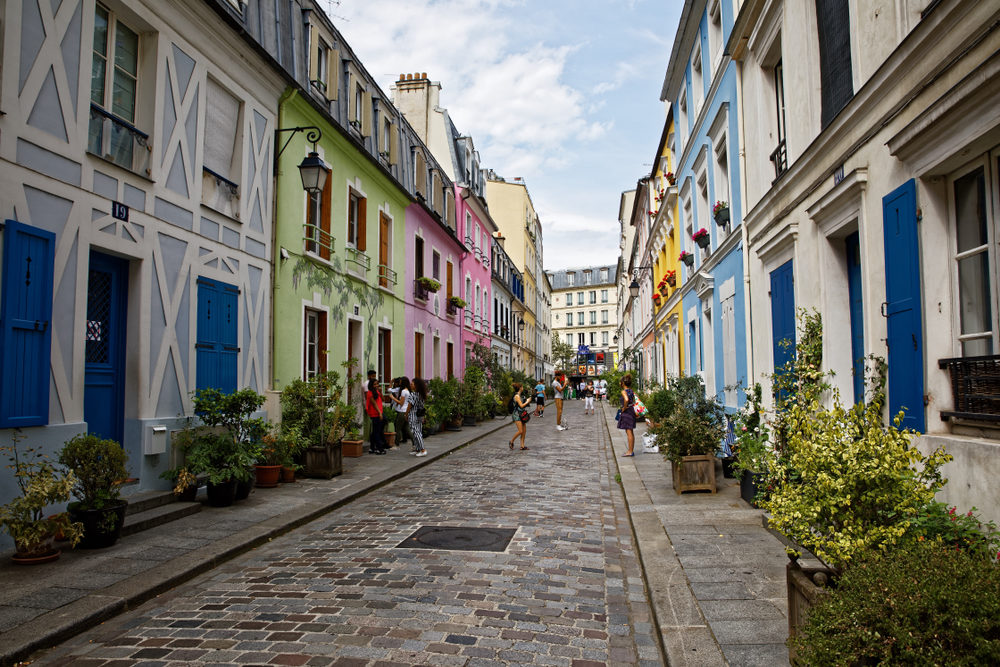 Just a short walk from the Gare de Lyon in the XIIth arrondissement of Paris lies the beautiful rue Crémieux.
An atypical street in the centre of Paris
This picturesque street is famous for its 35 colourful houses that are quite different from the Haussmann style of most Parisian streets. In fact, when you walk down the cobblestones of this little pedestrian street, the colours take you on a journey and quickly bring the atmosphere of Valparaíso in Chile or of Portobello Road in the neighbourhood of Nothing Hill in London to mind.
The 144 meters long and 7.50 wide alley was mapped out on the site of the former Imperial Arena, a 1500 places racetrack very popular at the beginning of the Second Empire. It was designed according to the style of English pavilions of workers' cities, with the kitchen in the basement and two floors consisting of six rooms.
A street steeped in history
In 1854, French entrepreneur, journalist and banker, Moïse Polydore Millaud, created the Compagnie Générale Immobilière for the purchase of land in Paris, and acquired rue Crémieux in 1865. At the time, it was called Avenue Millaud. In 1897, it was renamed rue Crémieux, in honour of Isaac Moses, aka Adolphe Crémieux. The lawyer and French politician, member of the Provisional Government of 1848, became famous for the 1870 decree which bears his name. In fact, on October 24th 1870, the Crémieux decree gave French nationality to the 37,000 Jews of Algeria.
Rue Crémieux also bears the mark of the flood that affected Paris in 1910. On January 28th the "flood of the century" brought the waters of the Seine up to 8.62 meters of the Austerlitz Bridge on the hydrometric scale. The famous Zouave statue on the Alma Bridge had water up to the shoulders… 8 rue Cremieux also saw the river level reaching 1.75 meters; today an earthenware commemorative plaque stands witness.
A street that attracts both Parisians and tourists
Rue Crémieux is also one of the most photographed streets of the French capital, despite some inhabitants of the street displaying No photo signs at their windows. Some of the occupants have even appealed several times to the Paris town hall for this never ending parade of tourists and bloggers to cease. Others prefer to laugh at the situation by showing the "behind the scenes" photos taken by visitors and the absurdity of certain poses on the Instagram account "Club Crémieux".
Aloha agents help you discover all the secrets of Paris: contact them quickly to prepare your stay!