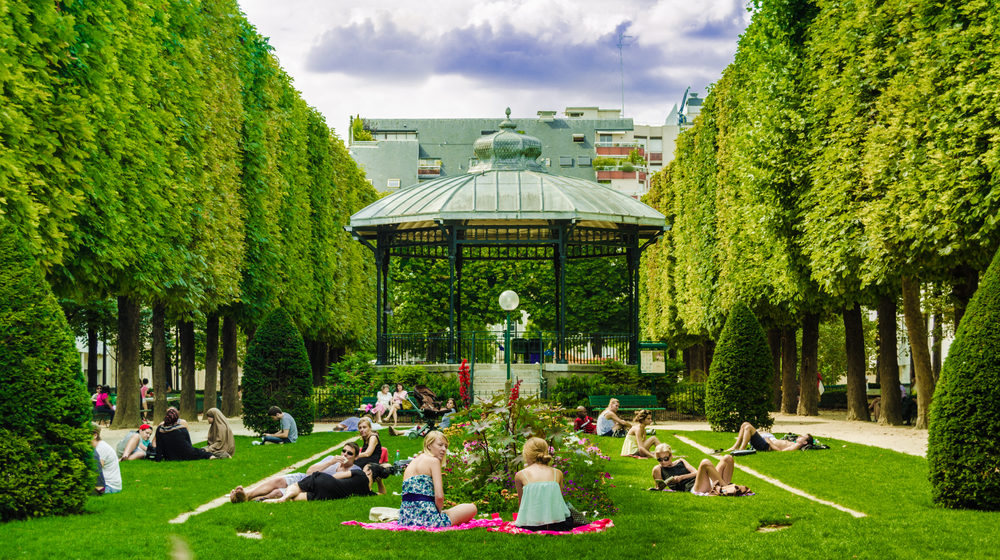 The sun is coming along with the summer heat. Parisians are slowly abandoning their little nests, restaurants and bars to make the most of the good weather. Aloha gives you his best places for a picnic in Paris this summer!

Parc André Citroën
Near the Seine, upon entering Paris, the ballon Generali will guide you to the Parc André Citroën. Once you get there you can bask in the sun and set down your picnic blanket on the grass near the waterfront.
The banks of the Seine
As soon as the fine weather arrives, the banks of the Seine are stormed by tourists and by Parisians themselves. The favourite spot to start the aperitif or have a picnic, some places are worth the visit. The Quai des Tournelles has a stunning view of the back of Notre Dame. And don't forget to smile between bites, you'll most probably be on several souvenir photos of barge passengers passing by.
Champ de Mars.
You can't get any closer to the Eiffel Tower for lunch or dinner than sitting on the grass of the Champ de Mars, just in front of the symbol of Paris. With a baguette, some cheese and wine on your picnic menu, you can't get more Parisian than that!
Parc de Belleville
On the heights of Paris, the parc de Belleville offers a beautiful view of the French capital. This calm and peaceful spot allows you to enjoy the beauty of Paris far from the excitement of the city. Breathe in deeply and enjoy the view while savouring your picnic!
Place des Vosges
Many places that Paris has to offer have their own specific character and charm, but for Aloha, there's one that stands out… After a pleasant stroll through the Marais district, lay your blanket on the grass of the beautiful Place des Vosges. Surrounded by red brick buildings, among which is the house of Victor Hugo built in 1612, the setting is both bucolic and picturesque.
And the best for last… Les Invalides
The most beautiful panoramic view for Aloha is the one from the Invalides lawn, surrounded by the Eiffel Tower, les Invalides, the pont Alexandre III and the Grand Palais. Tip: try to have the Eiffel Tower in front of you so you see it sparkle every hour! Nightfall only makes the place more spectacular.