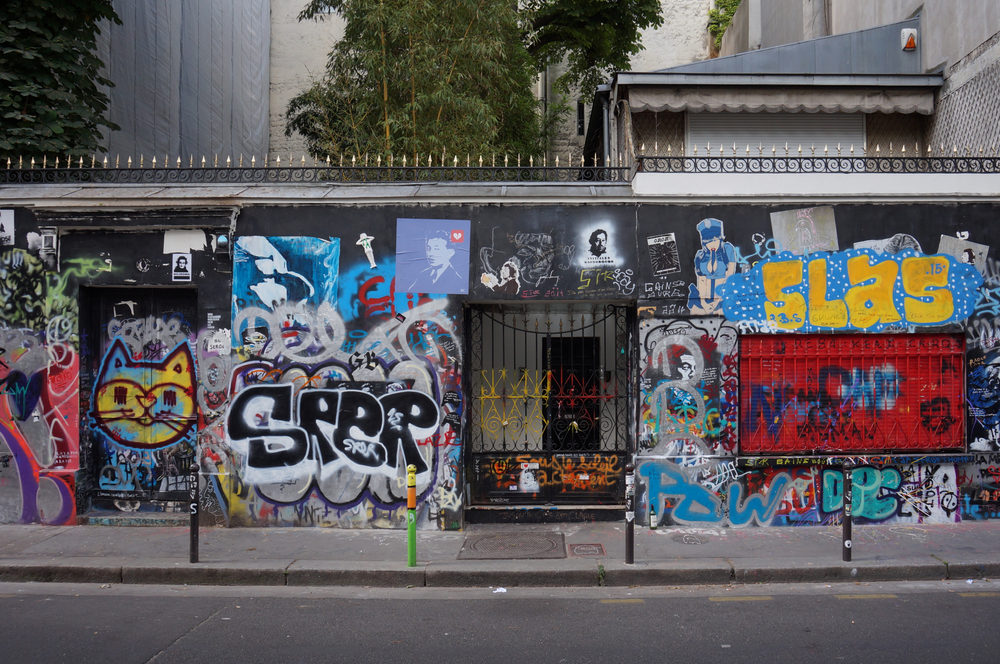 Are you wondering what to do for the upcoming music festival held each year? If you're in the Saint-Germain district, we have a unique outing idea for you: a visit to Serge Gainsbourg's house.
The small house on Verneuil Street
Serge Gainsbourg's house is located at 5 bis Rue de Verneuil, in the 6th arrondissement of Paris. Hard to miss the exterior walls covered with graffiti designed in his honour by fans. Since his death on March 2nd, 1991 in this house, it has become a place of remembrance for all his admirers.
He visited the little house in the Saint-Germain district for the first time in 1967, with the intention of living there with Brigitte Bardot. But she left him after three months, so it was Jane Birkin, then Bamboo who shared a part of the life of Serge Gainsbourg in his home.
The singer redecorated inspired by the decor he had discovered and loved in the 1950s by Salvador Dali: all the walls of the interior are painted black. Impossible to distinguish the day from the night; Serge Gainsbourg lived all day with the lights on.
The inheritance of Charlotte Gainsbourg
Today, his daughter, Charlotte Gainsbourg, owns the house, although when questioned, she declares: "The house belongs to me, but it will never belong to me. It's his home" It's like a sanctuary for her, so much so that she hasn't touched anything; no doubt to respect her father's fussy ways: a vinyl on the turntable; cigarette butts in the ashtray and on the floor; inscriptions on the walls…
A museum in tribute to the singer
In the 2000s, Charlotte Gainsbourg thought of making the house a museum, the Council of Paris having agreed. During the summer of 2013, 40-minute small-group visits were made public, tourists only being allowed to look inside the house through the windows on the ground floor. But in the end, no visits were authorised, because the house, despite a two storey surface area of 130m ², proved to be too confined.
If his daughter does decide to open the doors to her father's lair one day, one thing is certain, the singer's bedroom will never be revealed to the general public.
Meanwhile, you can discover the interior of the house through the video clip "Lying with you" from Charlotte Gainsbourg's last album "Rest", or through French photographer, Tony Frank's book, collecting different photo shots of the house in " Serge Gainsbourg by Tony Frank ".
Aloha agents are here to give you tips on the essentials during your stay in Paris!