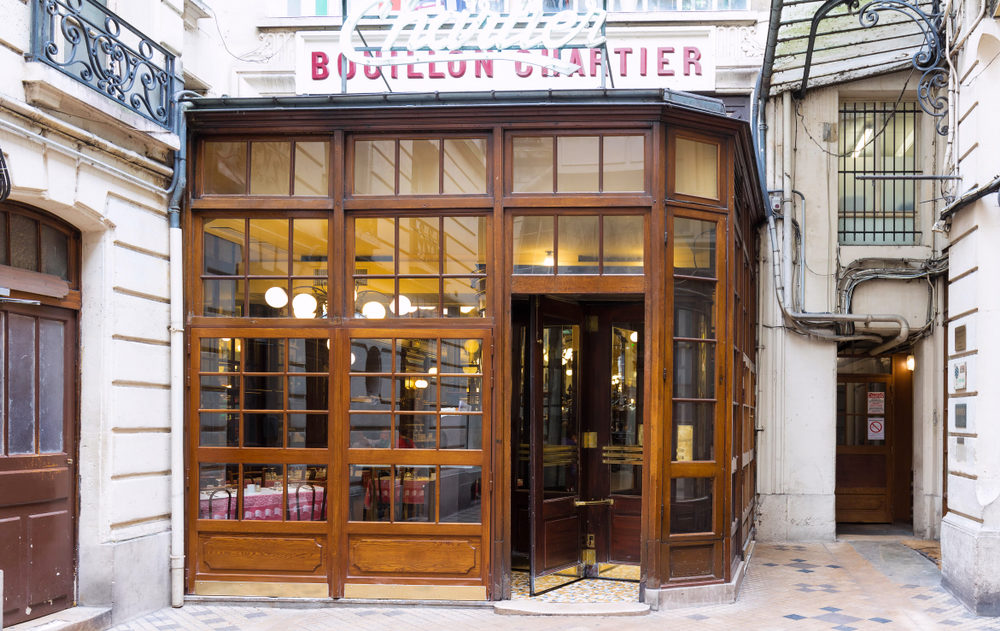 The "Bouillon", a Parisian institution
Around 1860, an ex-butcher called Alexandre Duval invented the concept of "bouillon", establishments where only broth was sold. In 1896 Camille and Frédéric Chartier joined the concept with the creation of the first Bouillon Chartier in the Grands Boulevards district. The architecture of the building and the Golden age decor of the room allowed its classification in the historical monuments list in 1989.
After 100 years, fifty million meals and four owners, the concept remains the same: offering traditional and simple French cuisine, 365 days a year, at a reasonable price.
A distinctive service
At the time, bouillon was a restaurant where labourers rubbed shoulders with the middle-class and their tight pockets. Even today, all types of customers share tables, "à la bonne franquette", because of the limited number of places at peak hours. In an Art Nouveau setting, from midday to midnight, the incessant procession of waiters dressed in traditional "rondin" (tight black waistcoat) and white aprons promise a rhythmic and efficient service.
The dishes blend tradition with diversity. Starters such as egg mayonnaise at € 2.20, country terrine at € 3.80; cauliflower gratin at € 8.50 and cold milk ice cream at € 2.80, "chou-chantilly" (whipped cream chou buns) or chocolate eclairs at € 2.90 for dessert, are on the menu at unbeatable prices. It's the same for drinks, since the jug of wine starts at € 3.30. The bill is written on the paper tablecloth .
From Bouillon Chartier to bouillon Julien
The success is such that the Joulie group, owner of a dozen Parisian breweries and also the historic Bouillon Chartier, opened a second address at 59 boulevard de Montparnasse in the 6th arrondissement in 1903. This new restaurant Chartier Montparnasse has 180 seats in a large room with ceramic coatings by Louis Trézel, which earn the placement in the Historical Monuments list in 1984.
On the other hand, Le Bouillon Racine, 3 rue Racine in the 6th arrondissement, only has the name bouillon, since the prices have gradually soared (dishes from € 17 to € 27.50, dessert from 7. 50 to 9.50 €).
As for bouillon Pigalle, 22 Boulevard de Clichy in the 18th arrondissement, iit's our favorite "bouillon", with its essential bourguignon coquillettes (boeuf bourguignon with cowuillette pasta!
Finally, Le Bouillon Julien, 16 Rue Faubourg Saint-Denis in the 10th arrondissement, reopened in September 2018 after long construction work. You can try your luck to be seated at table 24, where the singer Edith Piaf was seated while waiting for boxer Marcel Cerdan …
Aloha does its best to offer you typical venues that will make you a true Parisian … At least for a few days!