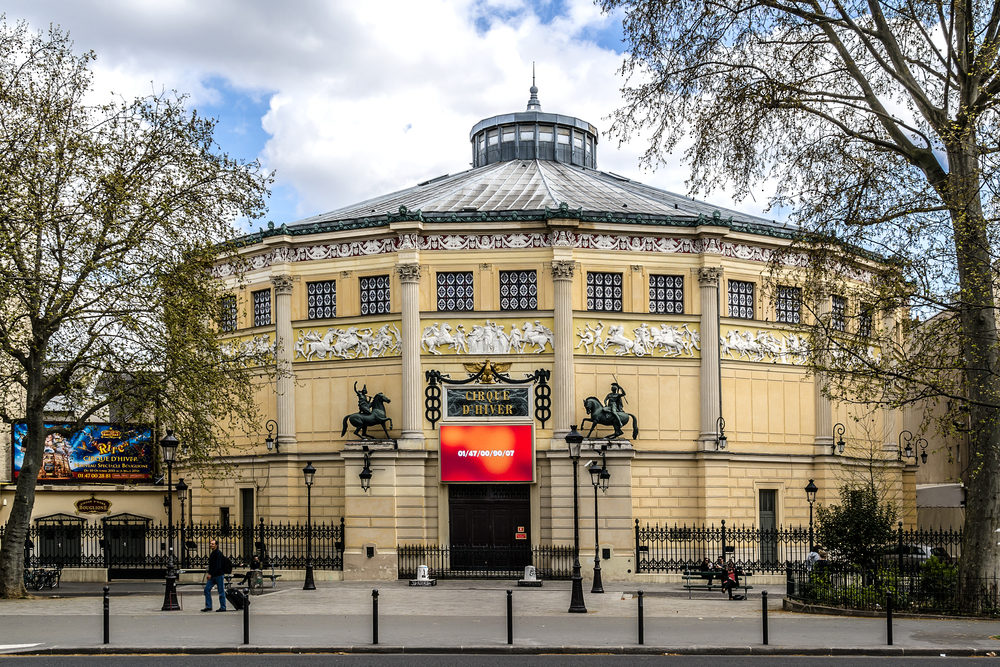 Winter's approaching, time for a day or night out at the Cirque d'Hiver! Have you heard of this place filled with history?
The Cirque Napoléon
On December 17th 1851, French sculptor and medal carver, Louis Dejean, who already owned the Cirque d'Eté, obtained the authorization to build a second circus, thanks to the Duke of Morny, half-brother of Prince Louis-Napoleon. Dejean called upon Jacques Hittorff, architect of the Cirque d'été and the Gare du Nord.
On December 11th 1852, after eight months of work, Prince Louis Napoleon inaugurated the circus to which he gave his own name. Cirque Napoléon is therefore one of the oldest circuses in Europe. It stretches over 42 meters in diameter, and has 40 windows divided over 20 sections in an icosagone shape, 21 gas chandeliers and 5,900 seats. Its interior and exterior design was entrusted to the great sculptors and painters of the time: Pradier, Bosio, Gosse, Barrias.
From Cirque National to Cirque d'Hiver
At the fall of the Second Empire, the Cirque Napoléon became the Cirque National and then gave way to the Cirque d'Hiver in 1873.
On December 27th 1907, film producer and creator of the Victorine Studios in Nice, Serge Sandberg, set up a movie theatre for the Société Pathé in the circus which was converted into a "Temple of Art Nouveau".
In 1923, after being put on sale by Sandberg, the monument became a circus again and was taken over by Gaston Desprez who carried out a thorough rehabilitation of the building, concrete structures replaced the wooden bleachers, the technical and electrical installations were renovated, and paintings restored. The Circus officially reopened on October 12th 1923, and the Fratellinis became the artistic directors.
In 1933, Gaston Desprez continued his investment policy by building a pool under the ring, inaugurated by Mistinguett. But it jeopardised the finances of the Cirque d'Hiver and in 1934, the circus was taken over by the four Bouglione brothers.
Each winter, the Bouglione family presents a new show gathering various international artists: Clowns, animals, acrobats, trapeze artists, tightrope walkers and jugglers.
In 1999, the new Bouglione generation picked up the torch and brought new life to the circus acts. To this day, the Cirque d'Hiver is known for its traditional circus performances, and the venue also hosts a variety of shows and political meetings.